Yesterday was a fantastic event and proved us that it's not always the athletes coming from +100kg winning the Open weight events. Toma Nikiforov, from -100kg, fought his way through to the finals winning every fight on his way by ippon. In the final, he was defeated by the legend Teddy Rinner. The players Toma defeated were in average 20kg heavier than him, which proves that techniques and tactics can overcome power and weight.
There was a clear difference in fighting styles and pace between the +100kg fighters and the -100kg fighters. Players of -100kg are moving and jumping a lot more than + 100 judokas and are able to make quick escapes in order to avoid falling on their back. The heavier fighters are a lot harder to throw and are obviously stronger but once they start falling they miss the agility to try landing on their stomach. According to an interview with Toma this is one of the reasons Teddy is exceptional. "Riner moves like a -100kg player." Another obvious difference was that the heavier fighters slowed down much earlier during the fight comparing to the lighter athletes who could keep the pace through most of the fight and initiated much more strong attacks during.
The weight difference between the heaviest and the lightest female competitor is 77kg.
The heaviest competitor weighs 152.8kg more than double as much as the lightest contester of 75.8kg. While a clash could be fascinating it can only happen if both athletes fight for a medal (either gold or bronze).
The average weight of the competitors is 114.4kg
The -70kg player really brings this average down. The average of the +78kg players is 123kg. Only 3 out of the 14 +78kg players who compete in the world open weight championship weigh less than 100kg. Interestingly, 2 of the 3 are leading the world ranking list right after Sarah Assahina; Larisa Ceric (2WRL) and Tessie Savelkous (3WRL do not reach 100kg and are much lighter than the rest.
Are 2 athletes making a comeback?
Yesterday we saw Iliadis coming back from retirement for this event and today we have 2 competitors coming back after an absence from the international stage since 2014. The last time Olga Artoshina fought was in 2014 in the Grand Slam of Samsun. Snyman Unelle was last seen in the African Championships in 2014.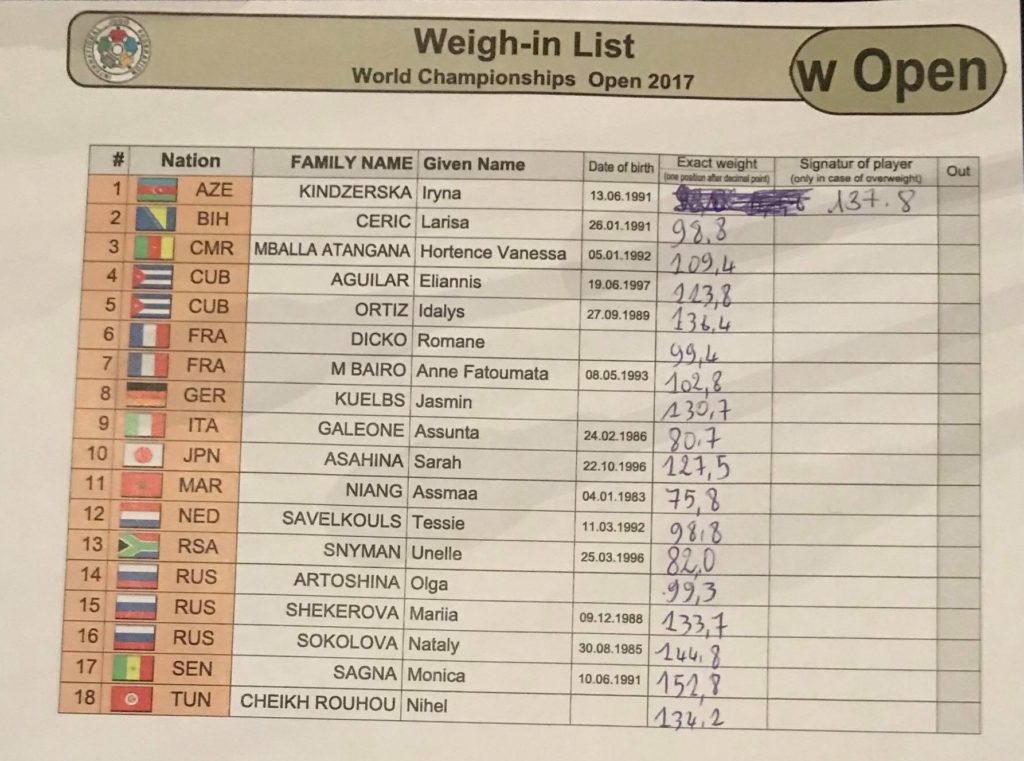 Read more: