Upcoming workshops and lectures
There are no upcoming events.
Past workshops and lectures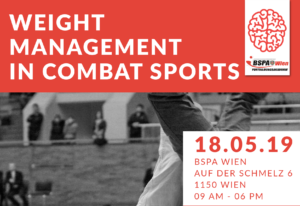 Weight Management is a crucial part in the life of a combat sports athlete. Therefore, it is a big issue, that many athletes cut weight unprofessionally. They suffer while doing so, but weight cutting doesn't have to be torture. There are easier ways to make weight besides running in sweat suits.
This one-day lecture is all about the hard way of losing enough weight, keeping performance levels high and recovering after weight-in! Science based theory mixed up with a big dose of practical knowledge is awaiting you.
When: 18/05/2019 9:00-18:00
Where: Vienna